A masterpiece that took five months for a Hebrew language embroidery artist, recognized by Israel, to produce was donated to Pyungkang Cheil Church
A Hebrew language embroidery artist Won-kyung Jeong visited Pyungkang Cheil Church with her precious gift on December 21, 2017 (see True Peace for October 2016 and Kookmin Daily Newspaper issued on August 30, 2016). Jeong has been impressed by the Redemptive History Series at her last year's exhibition and donated to the church her new work on the subject of "Deuteronomy 32", which is the contents of the Ha'azinu Torah. This work, which took five months for her to produce, says "Remember the days of old; consider the generations long past. Ask your father and he will tell you, your elders, and they will explain to you (Deuteronomy 32:7)." The names of the 20 patriarchs from Adam to Abraham are embroidered in Hebrew as well.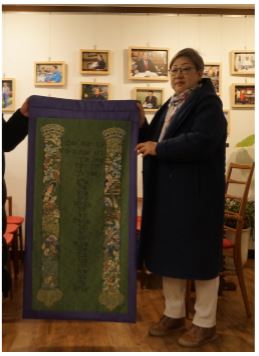 Jeong said "I have thought about why Pastor Abraham Park, the author of the Redemptive History Series, chose this verse from many verses of the Bible. As I read the verse one by one in Hebrew, I felt as if God tells me to ask the 20 patriarchs, from Adam to Abraham, and they will tell you all the redemptive history that God has created and progressed. The embroidery skills that I have learned over the last twenty years have been used to testify of Jesus in this Old Testament. Especially the Jews and those who know the Old Testament appreciate it. After her first exhibition last year, she held an exhibition this year at the "Center of Orthodox Jewish" in New York, USA and Jerusalem, Israel. In particular, through her exhibition in Jerusalem, her works were delivered to Israeli President Reuven Rivlin and the Korean Pavilion at the Hebrew University of Jerusalem. Over 3,000 Orthodox Jews, including Yehuda Glynn III, greatly appreciated her works.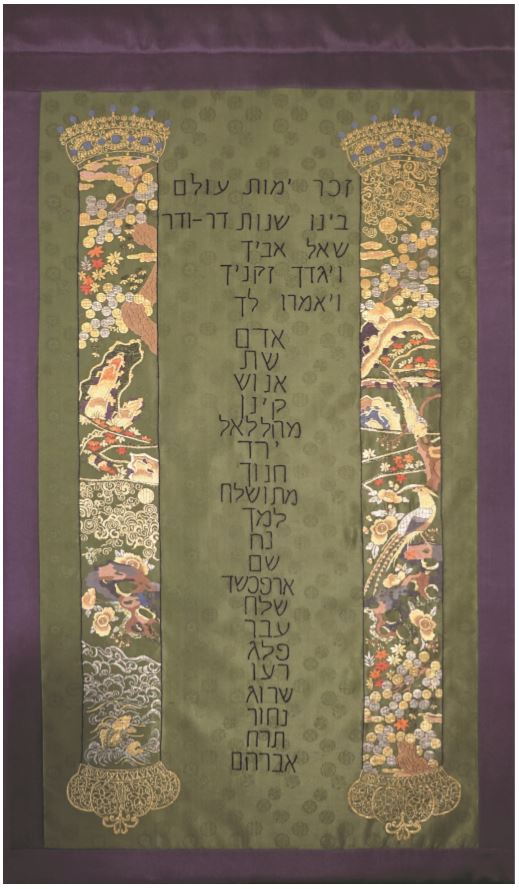 Picture: A work donated from the artist - Deuteronomy 32: 7 and the names of the twenty patriarchs from Adam to Abraham embroidered
​
Written by Kang Myung-sun