Proclaim 2017 : A Global Conference
for Preachers of Redemptive History
Let Us Return to the Bible, 2 Tim 3:14-17
2017.10.27~2017.11.01
@ Pyungkang Cheil Church, Jumunjin Oceanside Church,
Pyungkang's Yeoju Retreat Center
# 2 October 27 - October 29, 2017: The journey of training evangelists from all over the world begins at Pyungkang Cheil Church in Seoul, Korea.
October 27, 2017: Day 1
Attendees from all over the world arrived at Incheon International Airport and gathered at the Jerusalem sanctuary of Pyungkang Cheil Church for their first lecture. Many attendees were caught off guard by the early fall weather in Seoul and were not accustomed to the cold. Such concerns soon faded with the warm welcoming atmosphere at Jerusalem sanctuary and the warming of their spirits upon meeting new people from all over the world sharing in lively praise.
The message of the redemptive history was proclaimed to attendees at Jerusalem sanctuary using an interpreter who translated Pastor Lee Seung Hyun's lecture in English through headsets. To help those who came from overseas better understand each topic, Rev. Lee wrote in English on the chalkboard and occasionally wrote in Hebrew and Chinese characters.
Rev. Lee commented how it was truly a great grace that they gathered for the Conference on Redemptive History in 2017, which marks the 10th anniversary of the publication of the Redemptive History series. He began the lecture proclaiming glory for the Father in Heaven, saying "The words of this redemptive history we receive cannot be measured by money, but are precious words of greater value than the universe."
Tired from a long day, the attendees were shown to their lodging around 10:30 pm and unpacked. Even so, they looked thrilled with their day's journey.
October 28, 2017: Day 2
The second day began early in the morning with a tour of Seoul. After visiting the Gyeongbokgung Palace for a short time, participants gathered at the Moriah sanctuary to attend a seminar for 2,000 people invited by congregation. After finishing the morning schedule, participants attended the next lecture.
As was often emphasized by Pastor Abraham Park, everyone was focused with laser-like attention on studying the Word. No one showed any sign of being tired or distracted during the lectures, even with the stresses of a new environment and jet lag. Nothing could stop the passion for the Word.
October 29, 2017: Day 3
Participants visited the Kenneth Vine Collection Museum located adjacent to Pyungkang Cheil Church. Listening to the curator, they began their third day looking at ancient Biblical artifacts and exhibits that could be seen in Biblical times. After the main Lord's Day service, the participants took part in an afternoon schedule that included two lectures. Once afternoon activities were completed, everyone boarded a tour bus for Jumunjin Oceanside Church.
In the morning, participants awoke in Jumunjin to the beautiful scenery of an emerald color sea shining with red light as sunrise spread out over the East Sea. All the attendees were filled with excitement about the upcoming schedule of the conference.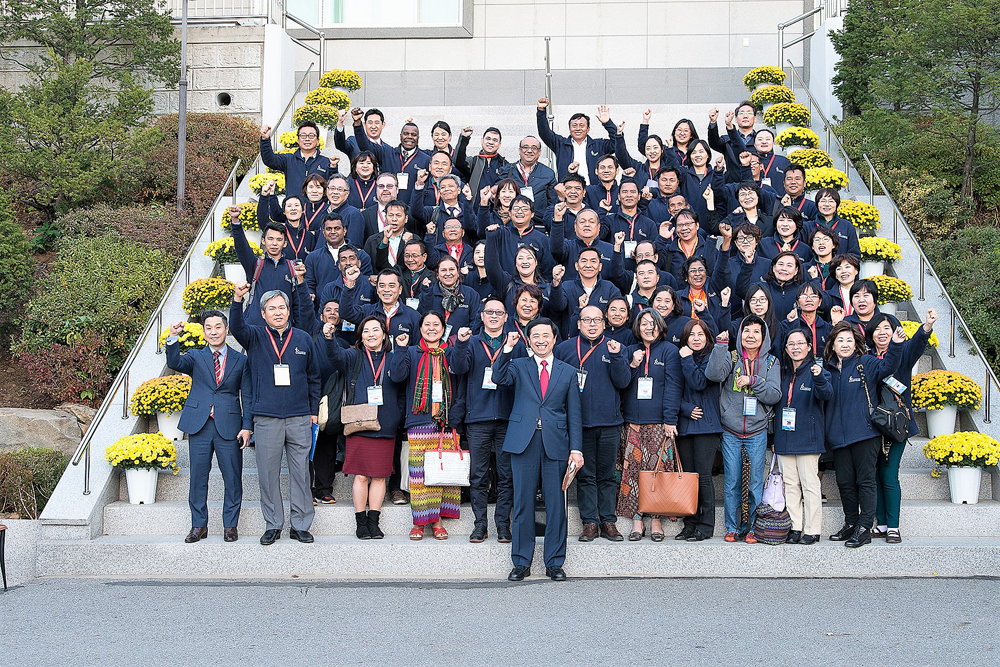 Below is the title list of the lecturers for the conference:
History of Redemption Lectures
Lecture 1 History of Redemption and Genealogy (Gen 5:1-32)
Lecture 2 The Historicity and Flow of the Genesis Genealogies (Gen 4:1-2)
Lecture 3 The Mysterious Genealogy of Jesus Christ: Characteristics (Gen 5:1-32)
Lecture 4 The Genealogies of the First & Second Adam (Gen 5:1, Matt 1:1)
Lecture 5 Redemptive Administration of Genealogy from Genesis Chapter 5 (Gen 5:1-5)
Lecture 6 Redemptive Administration of Enoch's Genealogy (Gen 5:21-24)
Lecture 7 Redemptive Administration of Genealogy from Genesis Chapter 11 (Gen 11:10-26)
Lecture 8 The Calling of Abraham (Gen 11:31)
Lecturer: Rev. Seoung Hyun Lee