Why Did Jesus Become Angry?
Matthew 12:9-14; Mark 3:1-6
The times we live in are charged with anger. Repressed anger becomes a direct cause of both mental and physical diseases so much so that psychologists say "holding in anger is an act of suicide." Hearts full of anger can lead to personality disorders, adolescent destructiveness, fractured families, and rebelliousness. People can kill, even unarmed, with their words.
Attributes of anger
In Chinese, "anger" is composed of the characters for "fire" and "rash" and connotes a quick temper, a raging blaze, a blast of anger. All the diseases attributed to pent-up anger were collectively called hwa-byung (a mental or emotional disorder as a result of repressed anger or stress) by our ancestors. According to the world-renowned psychiatrist Karl Augustus Menninger, repressed anger must be immediately resolved because it can manifest in the form of physical diseases. "Temper" is derived from a Latin word meaning "to rule" for it was believed that a person's temper served as a measure for one's character. It's said that Jews, when recruiting new employees, first find out whether applicants can control their anger or not as a way to judge their character.
There are also many scholars who liken "anger" to "steam" from a scientific standpoint because steam can be used to power machinery and locomotive engines. Likewise, anger must be well-controlled for it to be used when necessary for constructive purposes.
Athletes can effectively utilize temper to drive them to their best performance. However, passionless human beings are spineless and lifeless. In the Bible, the phrase "does not become angry" in the original language is interpreted to mean "a lack of will." Whether victory or defeat, good or evil, it is all the same to them; their lives are at a standstill. Thus, we must govern our temper and harness it to be a propelling force in our lives.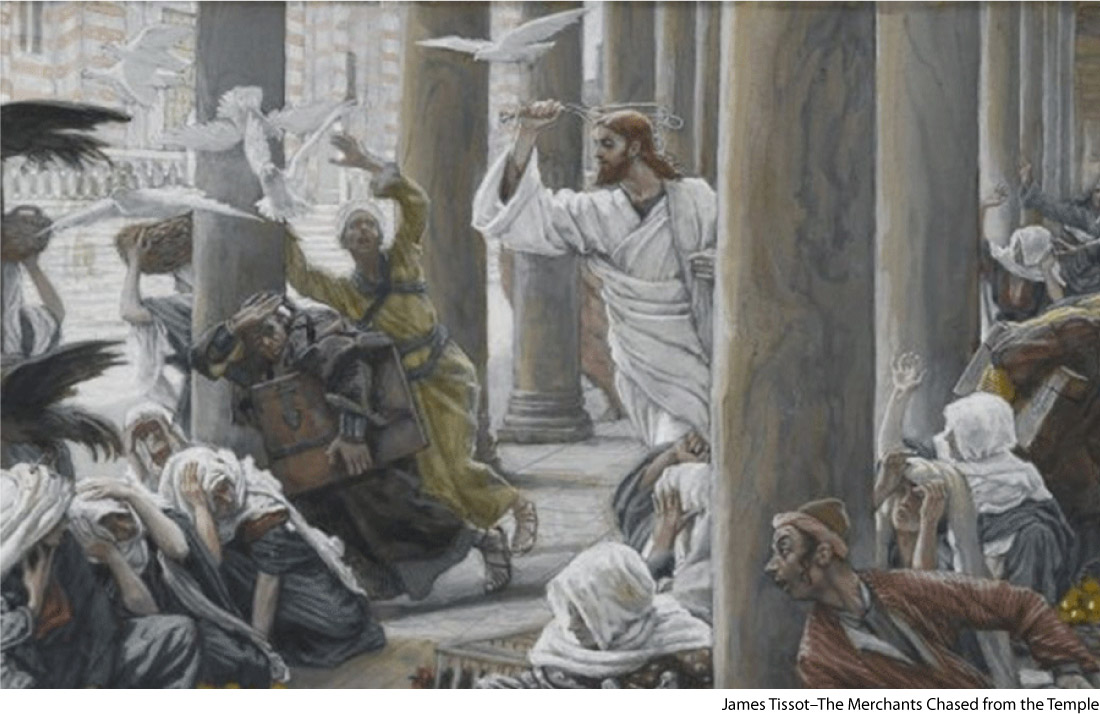 Those who control their anger
Lovers of God, the Bible, country, nation, and family must control their anger, for this very act is "courage." Galatians 5:22-23 says, "But the fruit of the Spirit is love, joy, peace, patience, kindness, goodness, faithfulness, gentleness, self-control; against such things there is no law." Self-control, the last fruit of the Spirit, is central to restraining one's anger. Uncontrolled anger is terrifying, like a raging bull. A mad bull leaps this way and that way and goes so far as to gore its own rider. Unable to overcome its rage in the end, the bull rams its head, breaking off its horns and collapses. While the fury of a bull is temporary, human anger is uncontrollable without God's grace.
According to Genesis chapter 32, Dinah was raped by Shechem the son of Hamor the Hivite who, being in love with her, then asked Jacob for her hand in marriage. Upon hearing this, Jacob's sons lied to Hamor and Shechem in their thirst for revenge and said that they and all their men had to undergo circumcision, the mark of God's covenant people, in order to marry Israelite women. So Hamor and Shechem convinced all their men to be circumcised. Three days after they had been circumcised, when they remained immobilized by pain, Simeon and Levi attacked the unsuspecting Shechemites and killed every man. However, the two sons who had wielded the divine ceremony of circumcision as a means for murder were cursed by their father Jacob. The consequence of their personal fury was the death of all the Shechemites. In contrast, though David had two opportunities to kill King Saul while fleeing from his pursuit, he controlled his anger by the grace of God and did not strike down the Lord's anointed king.
An individual's personal anger brings ruin to others, but the righteous indignation under God's grace ignites a community and gives rise to a whole movement. Florence Nightingale, known as "the white angel," was not the sweet nurse one would imagine nurses to be. Rather, she was a quick-tempered and unyielding woman. When a patient was improperly cared for, the entire hospital would tremble at her wrath. Her righteous anger lowered the mortality rate during the Crimean War (1853-1856) from 42% to 2%.
The American journalist William L. Garrison's cry in a burst of anger, "The sorrowful faces of slaves brings shadows to God's!" ignited the U.S. abolitionist campaign against slavery. Abraham Lincoln, the 16th U.S. president, witnessed an African-American woman being forcefully separated from her husband and children to be sold off, and, hearing her laments, he bit his fingers until they bled. Before he realized it, he was venting his anger in the middle of the marketplace shouting, "This is wrong!" Lincoln's righteous indignation bore mighty fruits for the abolitionist movement. A similar movement arose in Korea on March 1, 1919. The March First Movement was a large-scale nonviolent civil movement that called for resistance and independence from Japanese military rule, and it was an expression of the national furor ignited by the patriotism of the Korean people as they sought to attain justice and freedom. It's not that heroes and the great are free of anger, but they have the courage to manage it well.
The anger and love of Jesus
The Bible says to become angry with the thoughts of the Spirit and not of the flesh. So Jesus boldly expressed His anger whenever there were hindrances to the will of God. Seeing the man with the withered man in the synagogue, Jesus asked the Pharisees and Herodians, "Is it lawful to do good or to do harm on the Sabbath, to save a life or to kill?" They already knew Jesus would break the law of the Sabbath by healing the man with the withered hand and conspired to use that as justification to kill Jesus. Mark 3:5 records that Jesus looked at them with anger when He saw their hardness of heart. According to Prophet Samuel, rebellion and stubbornness are like the sin of idolatry (1 Sam 15:23).
Then did Jesus sin by becoming angry? Jesus' outburst of anger was one that, spiritually speaking, demolished the idolatry of God's people; it was a clash between law and love. It is not a sin if, rooted in righteousness and justice, we are infuriated by those who condemn Jesus. True Christians are those who are driven by the love of Jesus Christ and express anger purposefully for justice.
Jesus healed the man with the withered hand with the heart that "Even if I am stoned to death for healing on the Sabbath, I will save the one life that is more precious than all the world." May you believe that it is with this very love that Jesus concerns Himself for you and your families today.
Jesus' anger was motivated by love. The process of anger is an act of faith: the target being the malevolent forces, and the outcome, salvation. Jesus so loved humankind that He endured curses and misunderstandings to the very end and bridled His anger. Just as how Jesus in His love healed the man with the withered right hand, we, too, must burn with the righteous anger of Jesus that loves others more than ourselves, prays on behalf of their churches more than for our own, and loves even more our country and nation.
Huisun Rev. Abraham Park's sermon on March 5, 2006 (Lord's Day 2nd service)
*This post can also be read in 'Champyungan'. (http://champyungan.com/en/)