In 2010, Rev. John McCurley and his wife returned to Savannah, Georgia, where Rev. Abraham Park commissioned them to establish the "Covenant of the Torch Presbyterian Church" Rev. Abraham Park's request. The large U.S. Army base near the church, as well as Rev. McCurley's past service as a soldier, played a significant role in forming a congregation mostly consisting of active or reserve soldiers and their families. There is a profound and mysterious providence in this church; Elder Barry Dorris commented, "Our church building may not be beautiful, but the faith of the congregation that built it is beautiful." The "Covenant of the Torch Presbyterian Church" stands on 7.2 acres of land, big enough to later build additional facilities for Berit Theological Seminary. Everything, from the land to the building, was purchased and constructed entirely by the church's congregation. "There were three miracles prior to purchasing the land and the building," said Rev. McCurley.
The Three Miracles
Once Rev. McCurley returned to Savannah, several saints (including Deacon Steven Mills, whom Rev. McCurley had evangelized in the past) gathered once again at Deacon Donald Swartout's house and started a church through home worship gatherings. Rev. McCurley and the others visited many churches around the area to find a new sanctuary. Rev. McCurley particularly preferred a nice place near the airport, but no matter how many decent sites he found and presented to Rev. Abraham Park, Rev. Park never approved any site. Then, one day, another site became available; a church that was renting this location had to move out because they could no longer afford it. To Rev. McCurley, it was not an ideal location and was selling at the too-expensive price of $550,000. However, when he presented it to Rev. Park, Rev. Park immediately responded with, "Hurry up and buy the land!" Regardless of the reasoning against it, Rev. Park kept repeating to purchase the land as soon as possible. Rev. McCurley could not dismiss the Founding Pastor's confirmation that he received through prayer. He immediately met with the landlord, who gave the most miraculous response: "I'm selling the land for $140,000 due to an unexpected tax problem, and I'll need the payment to be made on the very day of purchase." Elder Barry Dorris commented, "It was something that could happen only by God's help."
The second miracle happened when they purchased an additional site of four acres in 2016 for Berit Theological Seminary. It was crucial to secure the place for the TRACS accreditation of Berit. This land that was adjoined to the Covenant of the Torch Church was never up for sale before. But one day, the landlord was sued for delinquent taxes and had to sell the land urgently. Its price went down from the market value of $200,000 to $120,000, then again to $80,000.
The third miracle happened during the process of obtaining the construction permits. The church needed to build various facilities as well as an annex for the Seminary library, but was in a difficult situation to get approval under the existing laws. Nevertheless, God gave grace to the person in charge, and the church was able to construct everything as they had desired.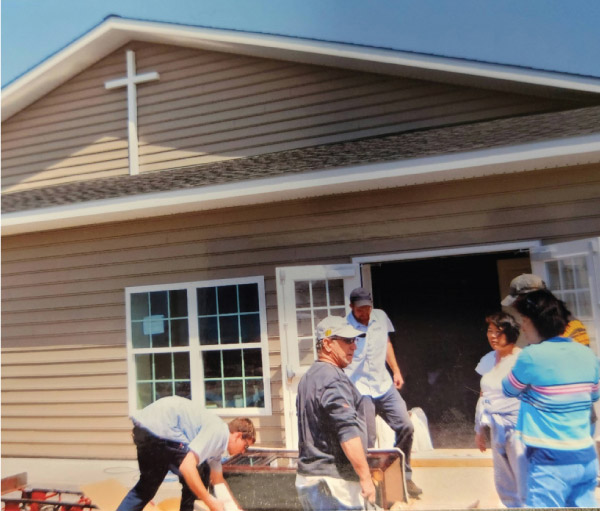 "Impossible things became possible one by one, and the congregation and even the neighboring churches were amazed. Everything was the work of our God the Father," recalls Rev. McCurley. Deacon Steven Mills added, "We came to realize that this church was a gift to us, although we do not deserve to receive it. Rev. Park always emphasized sacrifice and faith to us. Our church was founded upon faith and prayer, and was built through sacrifice." Forty-five saints, through their faith, built the Covenant of the Torch Presbyterian Church. Retired soldiers constructed the sanctuary with their own hands. Last year, the congregation paid off the balance of bank loans that had been made and the property is now valued at nearly $900,000. The loan was completed on the church's 10th anniversary, which carried a very special meaning as the number 10 symbolizes the number of "fullness." Elder Barry Dorris said, "God answered all of our prayers every time that He saw we were in need."
Gathering in Georgia
The Covenant of the Torch Church once had over 80 members, but because soldiers are relocated every two to three years, many saints moved away and now there are about thirty members who give worship. When soldiers and their families moved on, Rev. McCurley said, "They didn't leave empty-hearted, nor empty-handed, for they went forth with God's words planted in them." Some of these same members still follow the ministry there and give worship online through Facebook and YouTube. Rev. McCurley takes care of his saints with utmost love. His one desire through this article was to highlight the hearts and actions of the saints. Ever since his ministry in Seoul, Rev. McCurley was known as the friendly neighborhood pastor whose door (and kitchen) was always open to everyone. His sincerity, humility, fatherly kindness and down-to-earth humor melted people's hearts in no time. "Rev. McCurley and his wife show me so much love, love that is even greater than the love I got from my own parents," said Evangelist Sophia Kim, who serves at the Covenant of the Torch Church and serves there as the Administrator and Director of Admissions at Berit Theological Seminary for the past year. She recently earned her master's degree at Gordon Conwell, a renowned evangelical seminary, graduating with a magna cum laude.
The congregation in Korea may not be familiar with Rev. McCurley and his team, but they each have a powerful testimony of faith. Evangelist Donald Swartout, a retired U.S. officer, met Rev. McCurley for the first time in 1993. He heard many sermons about redemptive history in Tacoma, Orlando, and Seoul, and eventually went on to study and attain a Master of Divinity degree from Berit Seminary (in Georgia), after which he began to serve at the Covenant of the Torch Church as a locally appointed Evangelist. "I learned how it took 70-80 years for Noah to build the ark, and how Moses ascended Mount Sinai eight times… all of these amazing teachings impacted my life greatly. I truly believe that the living Father is here with us," said Evangelist Swartout. Elder Barry Dorris was a fellow soldier who served in the military with Rev. McCurley. He began attending the Covenant of the Torch Church in 2011. He said, "I had Bible studies for a week and came to understand more about the Bible than what I had learned in my entire life." Deacon Steven Mills also met Rev. McCurley while serving in the military in 1985. He attended church after being evangelized, but was "living a life of freedom" ever since Rev. McCurley had left Savannah. Then, one day in 2010, Rev. McCurley returned, and Mills too returned to being a believer.
Deacon Mills visited Pyungkang Cheil Church in 2013, a year before Rev. Park entered heaven, and was able to spend some time with the Founding Pastor. "He gave me a lot of exhortation on faith in the front steps of his office. His words have been a great help to me since then. Even though he was ill and weak, he didn't tell me to hurry and leave. Instead, he spoke to me for about thirty minutes and then prayed for me, because I was contemplating my career path. I will never forget that experience," Deacon Mills recalled.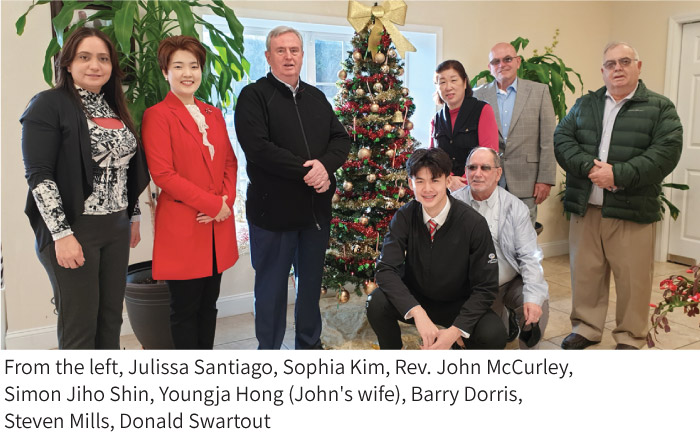 "I never imagined coming here"
Missionary Julissa Santiago is a recent addition to the Covenant of the Torch Church. Married to a U.S. soldier, Santiago taught biblical redemptive history at Pacific Victors Chapel, a church at the U.S. military base in Pyeongtaek attended by the Hispanic soldiers and families. She was introduced to the History of Redemption series by her friend, Deacon Carlos Kavetsky (The Living Water Presbyterian Church), before her departure to Korea and was captivated by the teaching. After she arrived in Korea, she met Evangelist Eric Burton from Pyungkang's Shiloh department, who was teaching the Bible to U.S. soldiers on base, and learned of redemptive history in the Bible from him. Eventually, she also began teaching redemptive history at Pacific Victors Chapel until her husband was relocated and they had to move back to America in April last year. Astonishingly, he was stationed in Savannah. "I never imagined coming here. Ever since I could see the redemptive historical timeline flowing through the Bible, this teaching has become my life, and I am never turning back. This teaching must be shared," said Missionary Santiago. She receives cell studies from Rev. McCurley, and then, via Zoom, will share the message to her Bible circle in Pyeongtaek. God's hand print can be seen in every step of her life of faith: a teacher of biblical redemptive history at a Hispanic church in Korea winds up at the Covenant of the Torch Church and Berit in Savannah, the center of Spanish missions work!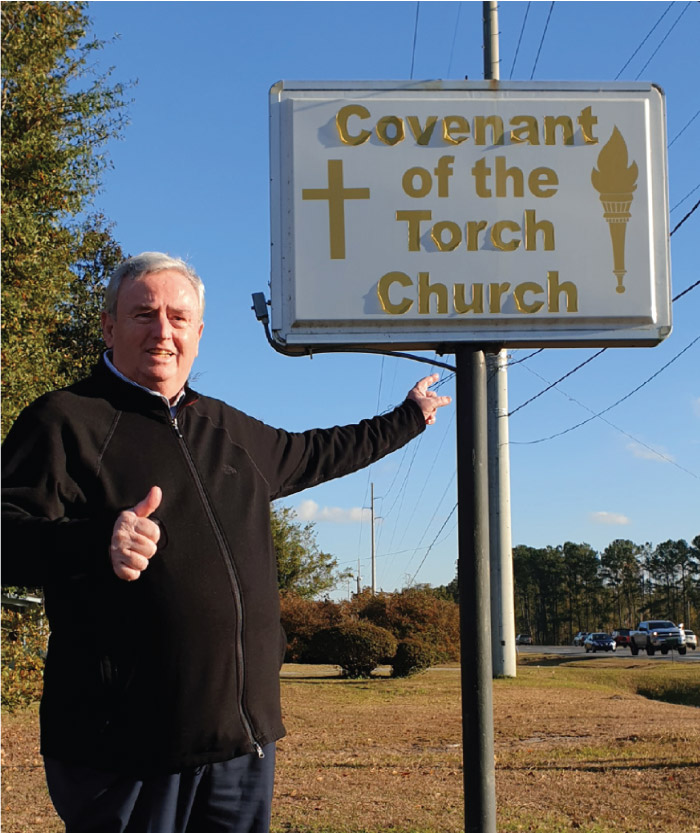 "There is amazing work when we become one"
Last November, Rev. McCurley suffered a heart attack during worship service. He was on the verge of losing consciousness but endured until the end of service so that the congregation would not be concerned. He later had to receive stent placements. Many saints shed tears after hearing his story. "God gave me my health as a thorn in my flesh so that I may not boast. Yet, His blessing of sabib sabib has kept me, and I confess that God is my strength and my help." Rev. McCurley is retiring this year, and he is earnestly praying for God to send a successor who has plenty of experience in global missions and is also able to expedite the Spanish missions work.
One saint said, "Rev. McCurley doesn't even take on lectures at Berit, to avoid the possibility of him being recognized, or that Berit would be called 'McCurley's seminary.'" Rev. McCurley is truly a shepherd, apostle, and believer. There are three things that he emphasized: The confidence that Berit will undertake a tremendous mission; that we, who have received the word of God, must go forth to proclaim it, united as one; and that we must work with Pyungkang Cheil Church which is to be its center. "Amazing work takes place when we lay ourselves down and become one, having in mind the great will of our Father God, to fervently share our message of redemptive history as revealed for the first time in the Bible, to the world."
From Savannah, Georgia, U.S.A.
Written by Ho Junseok; Translated by Vicky Park
Savannah, Georgia, USA
*This post can also be read in 'Champyungan'. (http://champyungan.com/en/)